I am sharing ways that I practice self-love based on the popular book, "The 5 love Languages" by Gary Chapman.  The book goes into great detail explaining the various ways in which people give and receive love: receiving gifts, words of affirmation, acts of service, physical touch, and quality time. Many of us get caught up in making sure that people in our lives feel loved, whether it be our partners, children, or parents, that we often forget about showing ourselves love.
Receiving Gifts
Now I don't mean breaking the bank to prove that you love yourself.  What I mean is, buying yourself a little treat. It doesn't have to be something that you absolutely need. It doesn't have to be expensive, in order to bring joy.  It should be something that makes you smile, and that you shouldn't feel guilty about purchasing. For me, that means hitting up my local thrift store, and finding that hidden gem.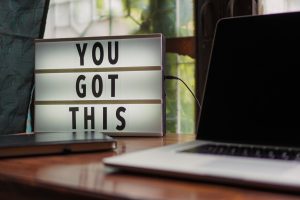 Words of Affirmation
Positive self-talk is a great way to show yourself you care.  Some days are harder than others, but it's important to try to look for the good.  On days when I am struggling, I will say "I am doing my best", or "I woke up today". A tool that helps me is a gratitude jar. I write down what I am grateful for on sticky notes, and then on New Year's Eve, I read each one to reflect on all of the moments of gratitude I experienced throughout the year.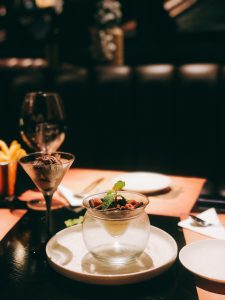 Acts of Service
Making myself a nutritious meal is one of my favourite ways of practicing self-care. I try my best to plate it artfully and pour myself a delicious beverage. Ambiance is everything and so I make the effort of lighting candles.  Lighting candles sets the scene for a relaxing experience. Day to day life can be  busy, so it's nice to take a  moment to enjoy a peaceful meal and simply taste every morsel of food. Another act of service for me is organizing and tidying my space.  It brings be a great sense of calm, when my space is beautiful.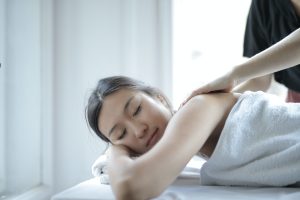 Physical Touch
One way I do this that doesn't cost any money, is putting on my comfiest and softest items of clothing. Nothing beats putting on that old sweatshirt that you have had since college, that is so worn out, you wouldn't ever wear it in public-but it just feels so good against your skin. I must also admit, I am obsessed with my weighted blanket. The weight of the blanket (20lbs.) is so comforting. It makes me feel so safe and warm. Another way I practice physical touch is booking myself a massage. I find it helps me to connect with myself, re-charge, and shut out the world.
Quality Time
I love to grab my re-usable coffee cup, a decadent picnic for one, and head out for an adventure. There is nothing like spending quiet time in nature, to revive the soul and re-energize the body. I like to journal when I am alone, so I can really get in touch with my feelings and thoughts. I find it hard to check in with myself sometimes, as I am always going a mile a minute but when I make the effort to schedule time just for me, I can focus and think clearly. To set myself up for a tranquil experience, I play soft music, light sage, and surround myself with crystals. Having a sacred space is important to me.
As cliché as it sounds, if you don't know how to love yourself, how do you expect others to know how to love you? Lead by example. I shower myself with love, so that I am able to give my love to others freely, abundantly, and relentlessly.
If you have read "The 5 love Languages" by Gary Chapman let us know in the comments what your love language is.