This wasn't a gifted experience. All opinions are my own.
With the rising cost of just about everything I decided to challenge myself to plan a self-care day using only dollar store items.  The self-care and wellness industries sell many specialty items in boutique stores, but I wanted to prove that it doesn't need to cost a lot of money to pamper yourself.  I realize that self-care looks different for everyone, and doesn't necessarily mean getting your nails done, or a going to the spa. Today I just wanted to go into the dollar store and be open-minded enough to explore the options that they have available.  I wasn't sure what to expect exactly but was curious to find out how this would unfold. I love a good challenge!
These are the items I bought, as well as the prices:
– Caprina bubble bath ($4.00)
– Good To Go keto bar-vanilla almond ($1.75)
– Socks ($2.00)
– Jamieson multi-vitamins for women ($4.00)
– Garnier Skin Active purifying oil-free towelettes ($4.00)
– Jergens mild soaps ($3.50)
-Gillette Simply Venus razors ($4.00)
-Aveeno repairing hand mask ($4.00)
-Colgate toothpaste ($1.00)
-Bio Steel sports hydration-rainbow twist ($2.00)
-Handwash ($4.00)
-Notebook ($4.00)
-Latex gloves ($3.50)
-Lysol ($3.00)
Total-$44.75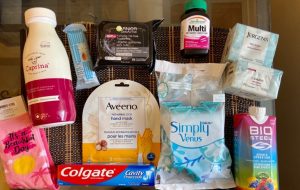 I started this day by brushing my teeth with Colgate. I decided to take a multi-vitamin, and then pop into the tub for a nice relaxing bubble bath with the Caprina goat's milk bubbles, and Jergens soap. While I was in the bath, I used the Garnier towelettes to clean my face. I also took the opportunity to shave my legs while I was in the bath anyway. I am always multi-tasking (even when I am relaxing). After my bath, I put on my hand mask to give my hands some much needed TLC. I've noticed my hands have gotten super dry due to all the sanitizer I use. I got myself dressed, which included putting on my socks that say "It's a Beautiful Day". As cheesy as it may sound, I find inspirational quotes or positive affirmations helpful in setting the scene for a good day. I was feeling a little peckish, so I had the Good to Go keto bar, and drank the Bio Steel sports hydration drink. I must point out that finding healthy items to eat and drink at the dollar store was the most challenging part of my experiment. There were countless sugary and high fat foods but not much for healthy foods. I washed my hands with the almond oil hand wash, and it smelled absolutely divine.  I don't know about you, but I feel most at ease when things are clean in my home. I put on my rubber gloves and got out the Lysol spray. I worked on cleaning the kitchen countertop, fridge, and kitchen table. I felt satisfied and accomplished that the task was done. The kitchen is the center of my home, and when it is clean and organized things run much more smoothly. I ended my day with some journaling. I wrote about how my day went and also noted some moments of gratitude. I find this exercise helps keep me grounded and focused. Journaling is a cost-effective way to practice self-care. 
All in all, I think this experiment went well. I do think it is a bit funny that most of  the items available are actually more than a dollar. I feel that everyone deserves self-care, no matter what that looks like. With the cost of living going up lately, I thought it would be useful to experiment with ways to adapt on a lower budget. It can be done with an open mind and a creative spirit.  There are budget-friendly ways to pamper yourself and still feel that your needs are being met. 
Let me know in the comments what your favourite dollar store item is.