I was provided tickets to attend a media presentation. All opinions are my own.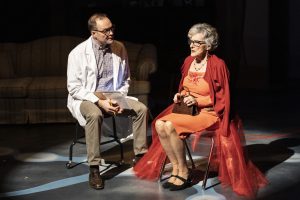 I had a moment to see Aaron Craven's Instantaneous Blue presented by Mitch and Murray Productions and it was fantastic. It is playing from January 6th to January 22nd (2023) at The Waterfront Theatre on Granville Island. We are invited into Edward (played by Charlie Gallant) and Sara's (played by Olivia Hutt) life, as first time young parents. Edward's parents, Judith (played by Patti Allan) and Bob (played by Tom McBeath) are going through dementia and the struggles that can come along with aging. The dichotomy of youth and old age are so beautifully portrayed in this performance. Edward and Sara must juggle the challenge of caring for their new baby, as well as Edward's elderly parents. On top of caring for everyone, Edward and Sara fight to keep their marriage together, as the stress of life bombards them. In the midst of all this, Edward still has to go to work to provide for his family. The play is very relatable, in terms of how difficult it can be to maintain a career as well as family responsibilities, including caring for aging parents. Both Patti Allan and Tom McBeath did an exceptional job at depicting the wide range of emotions that are attached to dementia and aging in general. You really feel for Judith and Bob as they yearn for control and stability in their lives. They miss the life that they once had together and try to hold on the memories that they shared. Life becomes chaotic and unpredictable as dementia rears its ugly head. Charlie Gallant and Olivia Hutt truly represent how frustrating and deflating it can be to constantly juggle everything but still feel you are doing poorly in every area of life. It can feel like no matter how hard you try, that you are letting someone down. I especially related to the scene where Edward is speaking on the phone with his father and struggles to teach him how to navigate how to buy an anniversary gift for Judith on the Amazon website. Edward becomes angry and annoyed with his father for not being able to understand but also shows that he feels guilty for not being able to help him as he has to rush off to work. Bob insisted on buying Judith a gift on that day because he had never missed an anniversary. You can see him cling to familiarity and routine. I also felt connected to Sara's character as she worked hard to maintain the household and care for the baby while Edward was being pulled in so many different directions. She was strong for him and for their family. She voiced how she was also drowning in this situation and called her husband out for disconnecting and avoiding her. The entire cast was remarkable and made you feel something. Whether or not your parents are struggling with dementia and old age, you can't help but feel for the characters in Instantaneous Blue as they maneuver their way through this exquisite disarray we call life.
Performance Times: January 7th, 10th to 14th, & 17th to 21st at 8:00pm
Matinees: January 11th, 15th, & 22nd at 1:00pm
Post-Show Talkback: January 15 (Hosted by The Alzheimer Society of B.C.)
*Tickets: $15-$35 | Available online at mitchandmurrayproductions.com
*partial ticket proceeds from every performance will be donated to The Alzheimer Society of B.C.