I attended a media preview of this presentation. All opinions are my own.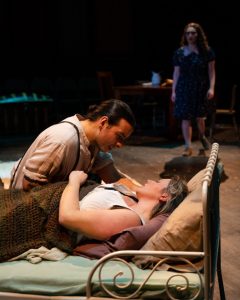 I was fortunate enough to check out Excavation Theatre's presentation of What a Young Wife Ought to Know at Performance Works. The play is written by Hannahn Moscovitch and  directed by Jessica Anne Nelson. It runs from March 24th-April 1st 2023.
The play takes us back in time to Ottawa in the 1920's. Sophie (played by Bronwyn Henderson) married to Jonny (played by Michael Briganti) struggles between the desire to be intimate with her husband and the lack of birth control. Sophie and Jonny initially grieve the loss of Sophie's sister, Alma (played by Charlotte Wright). Alma loses her life to an at home abortion, as abortions were illegal at this time. Sophie and Jonny end up falling madly in love with each other. Sophie and Jonny start a family together, but things take a turn for the worse when finances and the basic needs of the family do not align. However, Jonny wants to continue to have relations with his wife and in turn, impregnate her without taking her health (or the health of their children) into consideration. Sophie protests and brings up valid points to her husband, but she is not heard or treated as an equal. As I was watching Sophie, my heart broke for her, as she tried to desperately hold onto her marriage alongside her autonomy. I felt really triggered by Jonny as he wouldn't treat Sophie with respect, although he did love her. Love and respect are two separate entities. The cast did an incredible job with this performance, as they made the audience put themselves into the shoes of the individual characters. When Sophie asked the audience about birth control options, there was an uncomfortable silence in the air. The silence spoke volumes about the night and day differences between her choices (or lack thereof) and the choices available to everyone in the audience.
I must say that this play was difficult to watch, only because this was based on reality in the 1920's. Birth control wasn't an accessible or safe option back then. Sophie and Alma had to fight for ownership of their own bodies. I feel grateful to live in Canada, for how far we have come as a society, and for having choices regarding my sexual health. I am aware that not every woman in every country has the same liberties and freedoms and that is something that I truly hope changes.
Excavation Theatre strives to create high quality theatrical productions that provoke action and create new conversations surrounding issues of sexual consent and reproductive health. Excavation Theatre shares unheard voices and stories that are controversial, compelling, and provocative. From devised creations to traditional theatre, they focus on stories centered around societal injustices, that seek to dismantle sexist ideologies and practices. They explore the concept that anything at any time, in any place, can be a theatre performance — one only has to dig deep enough to discover it. They strive to center justice, equity, diversity and inclusion in all their practices and policies.
Tickets: $30 (*Eventbrite service charge apply) | General Admission
Where: Performance Works, Granville Island (1218 Cartwright St, Vancouver BC)
Dates: March 24 – April 1 2023
CW: Some bright flashes for lightning, sexual content, violence, domestic and familial abuse, miscarriage, abortion, misogyny, and death.