I am not a nutritionist or medical professional. This wasn't a gifted experience. My opinions are my own.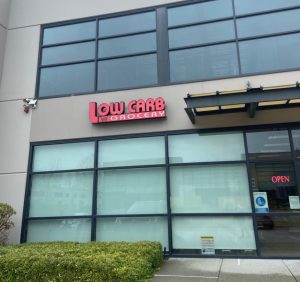 I decided to check out Low Carb Grocery because I have been looking at options on cutting back on my carbohydrate intake for my own personal health reasons. I am not a nutritionist and am not making any particular health claims. I am simply sharing my personal experience. I came to the store to check out high protein, low carb, and low sugar items.
 The store is located at 8610 Glenlyon Parkway #137 in Burnaby. I didn't realize it has been around since 2004. I recently discovered it as I was doing research on low carb options. Low Carb Grocery does have a delivery option for those who are unable to pop into the store. They offer free shipping to orders over $100, otherwise it is a flat rate of $7.99 for delivery. The Burnaby location is the only location in BC. There are 2 other locations in Toronto, Canada. The store itself is a small store but has a lot of great products available. I was very impressed and wanted to buy everything but stayed focused and only bought what I needed. They sell a wide variety of items including: bread and bakery, breakfast and cereal, spread and dip, pasta and noodles, beverages, protein and shakes, bars, condiments and sauces, cooking and baking, sweet treats, dressings, snack food, supplements, syrups and sweeteners, moderate carbs, and natural products.
I knew that items would be on the pricier end before I walked in, as a lot of health food items do cost more than "regular groceries". I realized that they post sales on their website, so it doesn't hurt to check that out before visiting the store. I went on a Sunday afternoon, and it wasn't too busy. There were about 4 other people in the store. The aisles were easy to navigate through, and I found that the smaller size of the store made me feel at ease. I find that I often get overwhelmed at big box stores because there are simply so many things to look at and sift through. I purchased 8 items and had my receipt emailed to me. I love how they use compostable bags that are better for the environment. I did have my reusable bag with me though, as most stores no longer provide bags.
This is what I bought and the prices:
-Indigo Nutritional Yeast-$8.99
-Catalina Crunch Cereal (Fruity)-$11.99
-Lakanto classic monk fruit sweetener-$9.99
-Coconut Secret raw coconut aminos-$10.79
-Chickapea vegan mac and cheese-$5.49
-Hold the Carbs Pancake mix-$18.99
-Carbanada roast garlic pasta-$6.69
-Golden Home ultra thin pizza crust-$8.99
Total (including tax)-$82.37
I would definitely go back to Low Carb Grocery because it is a convenient option for specific foods. Even though it is on the more expensive end of the spectrum, I feel that it is totally worth it for good quality items. I know that the price point of some of these items may not be accessible to everyone but just wanted to share information about this store because I think that not a lot of people know about this hidden gem. I wouldn't go to Low Carb for all my groceries, but more so to pick up a few specialty items. I like that the space isn't huge so you can quickly find items you need. I also like the fact that the store is located in Burnaby and there is ample free parking. The cost of groceries and gas is so high these days, it is nice to be able to take advantage of free parking. If you are in the neighbourhood, check out and explore Low Carb Grocery.